Shipping Details
Demo Program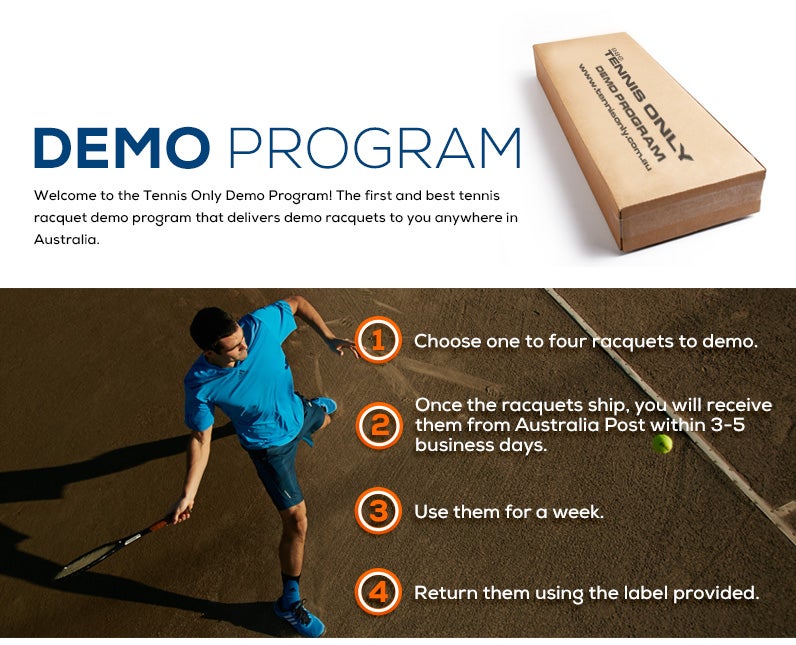 Adult and Junior Demo Racquets

Select a manufacturer to see their demos.
Frequently Asked Questions
How much does it cost?
The only cost you will incur is the Australia post charge for shipping the demo racquet(s) to you and back to Tennis Only. We charge a flat rate of $25 for demo rental which includes shipping out to the customer and return shipping back to Tennis Only. Demo racquets cannot be shipped outside of Australia.
Note: You may demo a maximum of four (4) racquets at one time.
Note: Only 1 racquet per model, per order is allowed. For example, you cannot order 2 Wilson Pro Staff RF97 racquets on the same order.
Note: All additional product included with a demo order over 200 grams will be placed on a separate order, and additional shipping charges may apply.
Note: Gift cards may not be used towards demo orders. Only a valid credit card can be used to pay for the shipping fee.
How long does it take to get the demos & how long can I keep them?
It takes two days from the day we ship the demos for the racquets to reach you. You get to keep them for up to one week. If you receive them on a Monday then you have to ship them back to us by the following Monday. If you receive them on Tuesday then you return them by the following Tuesday, and so on.
Note: Because demos may need servicing (stringing, gripping, etc.) prior to being shipped out, demo orders are not guaranteed to ship in the same time frame as new product purchases. Demo racquets may show in stock on your order but they may not be ready to ship immediately. Delays are only occasional and are typically no longer than one to two days.
How do I return the demos to Tennis Only?
We provide you with a pre-paid Australia Post return label that you place over the existing label on the box you receive the demos in and take it to any staffed Australia Post station. Click here to find the nearest staffed Australia Post station. You won't be charged any additional fees when you return the demos through Australia Post with the pre-paid return label.
Note: Be sure to ONLY use the provided demo Australia Post return shipping label for returning demos as this will guarantee insurance, tracking and proper return for demos. Customers are responsible for providing a tracking number if returned by another shipping method.
What if I forget to return them?
We want as many people as possible to have a chance to demo these racquets so it's important that they're returned to us on time. If you ship them late, there is a late fee of $2.50 per racquet, per day. If you're more than 7 days late and we are unable to reach you, we will charge your credit card for the full price of the racquets.
How do I begin?
Use the navigation bars at the top of this page or the manufacturer links at the bottom of this page to find the racquet you want to demo. Click on the "Demo" link and then just follow the directions that appear on each page. You'll be able to add more demos to your order, up to a maximum of four (4) racquets per demo order.