Shipping Details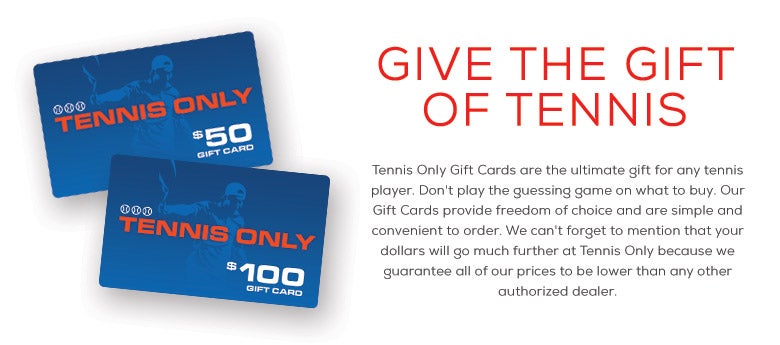 Send a Gift Card by Mail
(Free Shipping)
Security Measures:
Due to the large amount of fraudulent orders placed for Gift Cards, a Tennis Only representative may call the phone number listed on your order to confirm the information. Any order that cannot be confirmed by phone, will be cancelled. The Gift Card cannot be converted into cash.
Send a Gift Card by Email
Steps for Ordering a E-Gift Card
Enter the dollar value of the Gift Card you would like to purchase.
Select add to cart to add the Gift Card to your order.
Continue Shopping or Proceed To Check Out.
The E-Gift Card will be delivered electronically to the recipient within 2 business days.
Redeem a Gift Card
Steps for Redeeming a Gift Card
Enter your Gift Card number and 7-character password.
Select redeem to add your Gift Card and corresponding available credit to your order. You may also apply your Gift Card directly at checkout.
Continue Shopping or Proceed To Check Out. If you are checking available credit only and do not wish to purchase any product at this time please remove Gift Card product from cart.
Gift Card FAQ
Can I redeem more than one Gift Card per order?
Yes, you can redeem more than one Gift Card per order.
Can I order several Gift Cards on one order?
Physical Gift Cards may be ordered in multiple quantities on one order.
When will my Gift Card be shipped?
If your order is placed before 5pm EST time, your Gift Card will be posted on the same day.
Will I receive a confirmation email for an E-Gift Card order?
Yes, all Tennis Only orders receive a confirmation email within two business days.
Can I specify how much of my Gift Card I would like to use?
No, our sales system will use available credit to pay for all products, including shipping fees on your order. If your order total exceeds available credit you will be asked for an additional method of payment to cover the total cost of your order. If your order total is lower than available credit, your remaining credit will be saved in our sales system and available to be used on future orders.
Can I use a Gift Card to pay for another Gift Card?
No, Gift Cards cannot be used as a payment method to purchase additional Gift Cards.
Can a Gift Card expire?
Yes, the Gift Card will expire 12 months from the date of purchase and any unused value will not be refunded or credited.